Last night (Monday), I wove in the ends* for M's 2008 Christmas socks! Hurray!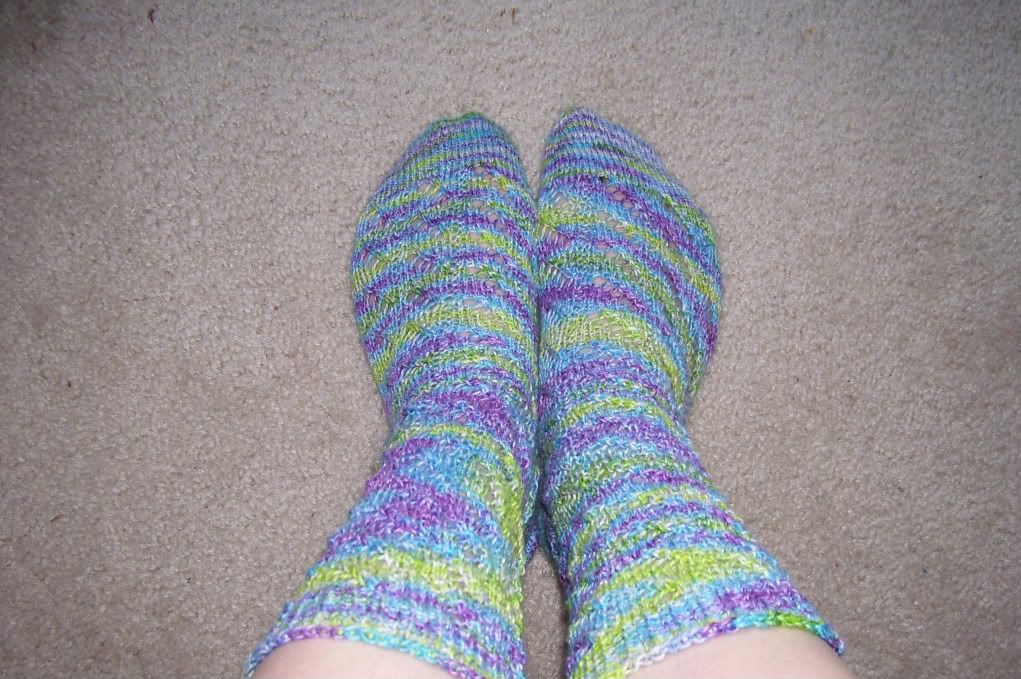 For some reason, the second sock had more pooling than the first sock...
...but I'm not complaining.
I even found the perfect card to go with them at the LYS: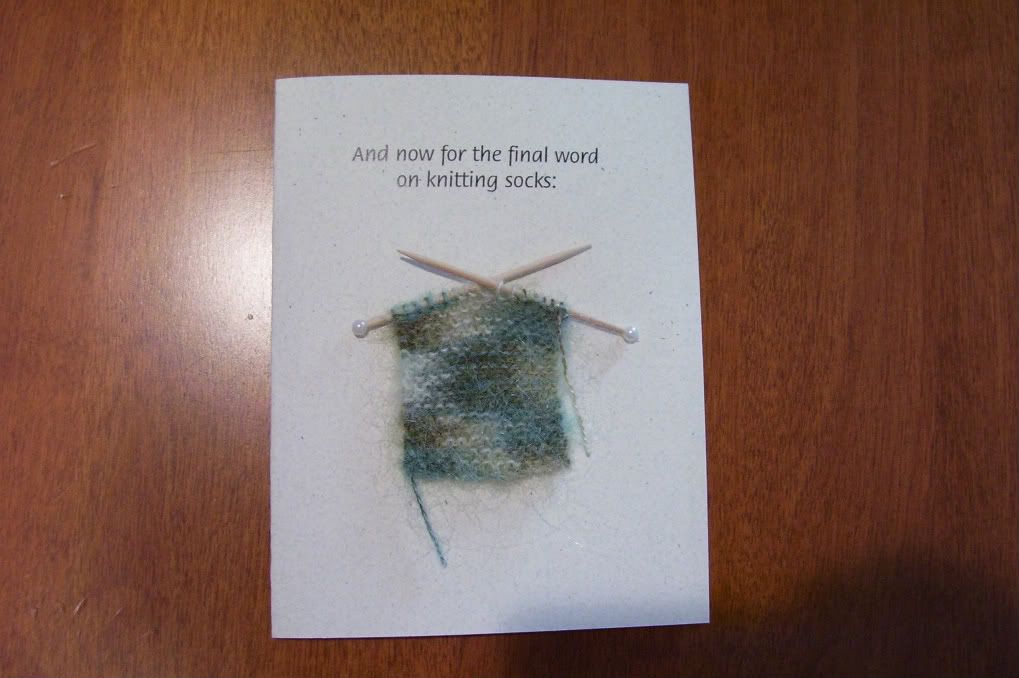 Specs:
Pattern:
Diagonal Lace Socks from
Socks from the Toe Up
by
Wendy Johnson
Yarn:
TOFUtsies in the Feet First colorway
(I think that's the right colorway, I seem to have lost the ball band
Needles:
2.25mm INOX Express circular--magic loop method. I really like the INOX Express needles. They are pointier than regular Addi Turbos and slicker than the Addi lace needles. I wish more stores carried them. I've considered trying the Knitpicks needles in the same size because I bet they'd be pointy and slick enough for me, but I've heard not great things about the joins. I feel like they'd be more likely to give out when you're doing magic loop, but maybe that's just my perception.
Ravelry link
:
here
Other Notes
:
Turkish Cast-on
Russian Bind-off
After doing the increases for the toe, I knit seven rounds even so that the toe would be a little longer
Started in August 2009. Ripped out the first sock twice (!) so I could get a good size
I'm slightly nervous these may be a smidge too small for my sister because they seem to fit me perfectly and her feet are a little bit bigger than mine. However, I've got leftover yarn and am prepared to rip out the toes and make them longer if necessary.
So, what is my next project?
Another pair of toe-up socks, this time for my mom for Christmas 2009 (trying to get a head start here, maybe I'll actually have them done in time!).
Pattern
: On-hold Socks from
Socks from the Toe Up
by Wendy Johnson (can you tell I like this book?)
Yarn
:
Socks that Rock-lightweight in the Jasper colorway
. On my screen, the color is looking more purply, but in real-life, it's more maroon. This is my first time using STR yarn and when I bought it, I was surprised at how overspun it seemed. The yarn curls up on itself in places which I haven't seen in other yarns. It's a nice, firm yarn, though, and gives beautiful stitch definition. The lace pattern is really going to stand out. I think a lighter color would be really great for a cool knit-purl design.
Needles
: 2.25mm INOX Express circular--magic loop method.
I did the Turkish Cast-on for this one since it went so well for M's socks. Other than that, there's not much to say about these socks--I've barely gotten them started!
*I couldn't find my thinner yarn needles (I swear there is a green Chibi around here somewhere with two needles perfect for weaving in the ends for fingering weight yarn), so I went to my new LYS to pick some up, thinking I'd get a new Chibi and

they didn't have Chibis

! What kind of LYS doesn't have Chibis??? Fortunately, they did have yarn needles in the size I was looking for, but I am flabbergasted at the lack of Chibis!